Saturday, May 4th, 2019
Having been around since Apple debuted the original Apple Watch back in 2015, third party watch bands have been offering customers some of the best alternatives.  One of the best third part brands offering these is a Texas based company known as Braxley. Selling Apple watch bands for $30, these bands are not only unique but also fully elastic hence able to stretch over your hand with a lot of ease.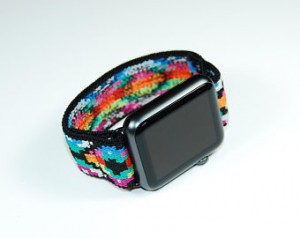 Like all the other comfortable watch Apple bands, these bands snaps into the Apple watch case by sliding into both the top and the bottom of the watch. Although, each band has a logo, they face inwards hence are not visible when wearing your Apple watch. Once properly installed, these bands have one of the simplest processes of wearing. You just need to stretch your band until it's enlarged enough to slide it into your wrist. Although some of the materials used to make the band may make it hard initially, you don't have to worry. As a matter of fact, some of the best options to use include Denim and Rose.
After sometimes, things will get easier since the tough materials will get a bit more elastic.  The more elastic bands such as Orchid and High Tide will never give you any issue as they will easily slip over your wrists without any problem. Whether you want these bands for daily use or for use once in a while, rest assured that you'll not face any problems. For instance, since the Sports Loop is very simple, it's a very good band for workout. Apart from this, there are others that you can wear on a daily basis. If you are looking for the best stretchy Apple watch bands, these are the best.
Whether you are looking for colorful designs or not, Braxely has a collection of bands that you can choose from. The company has a collection of bands including the ones that mimics the 90s designs. If you are looking for one of the best designs may be you can choose the High Tide. These bands are not only well designed but also tough as well. In fact, you can survive with them through a variety of workouts while staying firm on your wrists. Although they may come with some frayed fabric ends, they are both well-constructed and clean. Whether you stretch them over your hands throughout they will never lose their elasticity.
Bands such as Denim and Rose which are basically the same old build comes with a bit tougher materials. With one uniform color taking up the whole design, these are more formal band options. Otherwise, all of them have the same features including moisture wicking fabric, fully elastic body, and are fully machine washable.  According to the company, these bands have been made using the same material. However, there are some visible differences that you will notice if you are keen. You also need to note that if you have other pieces of jewelry you may need to remove them before sliding them into your hands.